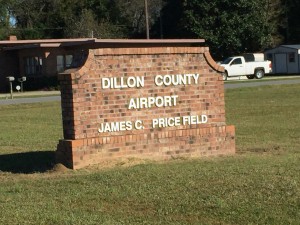 At the end of an I-95 exit ramp in South Carolina, just across from Missy's One Stop, sits The Dillon County Airport. When my husband and I first saw it several years ago it was forlorn and forgotten.  Single runway rutted, runway lights broken, rusted tower with a battered old beacon light. There were a couple of old white trailer buildings with a faded "Airport Office" sign on one. And a dirt track winding through planted fields to the Dillon Motor Speedway. A relic of a past when much of America was tied together by tiny air strips and tinier flying machines.
I looked up the airport on the  FAA's website. It was still an active airport as far as the FAA was concerned.  But I doubt a plane had landed there in a decade or more.
We came back a year later.  The airport looked even more abandoned. And the trailer buildings were gone.
Then – a small miracle. We came back in 6 months and the runway was newly tarred and striped. New runway lights were catching the sunlight.  And -OMG – an old Cessna 172 was sitting on the taxiway. It had a few rivets missing from the cowling and a paper map sitting on the passenger seat and looked pretty much unchanged from the 172 which I learned to fly (in case the pilot had a heart attack) when I did traffic reports in college.
3 months later – the 172 was still in the same place. It looked as if it hadn't moved in years. And maybe never would.
Then this week we took our usual walk down the little road paralleling the runway. And there – high above us – was a brand new light with all the new electrical connections needed to make it a proper rotating airport beacon.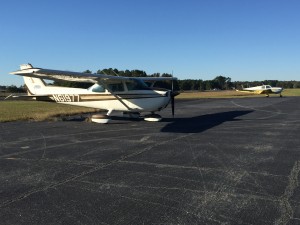 And even more amazing… a second small plane sat near the runway. An old Beechcraft. Looking slightly more as if it had actually flown there.  A brand new windsock soared bravely near the refurbished runway.
Our little county airport was alive! Never mind the reason (yes I know I'm a reporter and supposed to be pinning that down). It may have been simply, as one source suggested, that the FAA threatened to stop providing the county with maintenance money unless there really was some maintenance.  It doesn't matter now.
So hop in your flying machine and fly in  – now that you won't land in a rut. Walk across the road to Missy's. Savor a good Southern, home-cooked meal.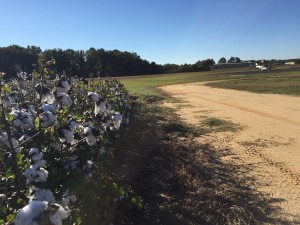 Then walk it off in the cotton field just behind the airport- on the sandy path which still leads to the Dillon Speedway.